NEW POINT OF SALE APP AXCORAPOS
July 13, 2020
NEW POINT OF SALE APP AXCORAPOS
Modern web-based mode makes it easy to record bookkeeping with the best features of product expiration dates providing product checks, up to full sales purchase features plus detailed report summary for use.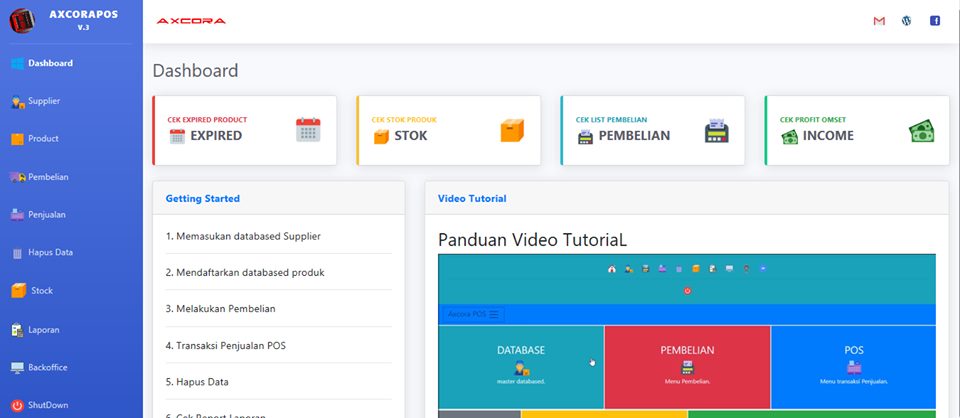 FEATURES POS APP Feature login with username and password protection. Compleks and detail menu for use and work. Product based with barcode code , inventori stok and expired date . Supplier based include for register your supplier.Purchase order features. Point Of Sale Transaction support with barcode scanner for fast transaction. Delete features menu to delete data, Complex inventori stock management to use. Complex report for check omset and more. Check income profit detail for shop store. Backoffice system for office menu.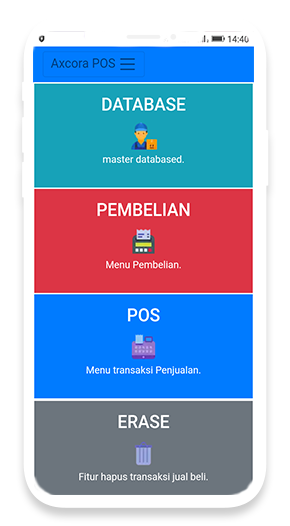 This new generation app pos online clouds based, you can accsess it from android iphone smartphone or your pc desktop and cash register machine to work. app pos point of sale software pos applicationThis is a digital revolutions with mobile pos on the go techology. This is a new mobile post era online cash register machine for your business needs. Feel the world in your hands mobile flexible in supporting purchase transactions, check stock, check expired date of products, check minimum stock, and the need for point of sale transaction cashier machines to summarize detailed reports you can access only with an Android smartphone iOS Windows and others other. Specialized Touchscreen method so as to facilitate your various transactions, available full features ranging from master databased products, suppliers, purchases, point of sale sales of cashiers to the print method of receipt of mini cashiers or A4 letter paper for invoices plus detailed report reports transactions with This latest generation of online cash register is for you. With an online system makes it easy to transact in various divsi in carrying out each task is very complex in the division of divisions until the backoffice system is available for office needs such as the presence of a calculator and digital calendar to note agenda to record your various business needs, short cut to the website and online shop to social media for internet marketing tools directly available on this new online cash register. Appear with a captivating design and dynamic full color more luxurious and unique in supporting your business is supported by the complete features of this latest online cash register machine system for you. It's time to revolutionize your digital bookkeeping system with the latest new Axcora pos online cash register !!
---